Rising Stars Winner Q&A
Silvia Caminero Huertas, Digital Transformation Engineer, CEPSA
2021 Winner – Rising Stars Winner Q&A
Published on 28th July 2022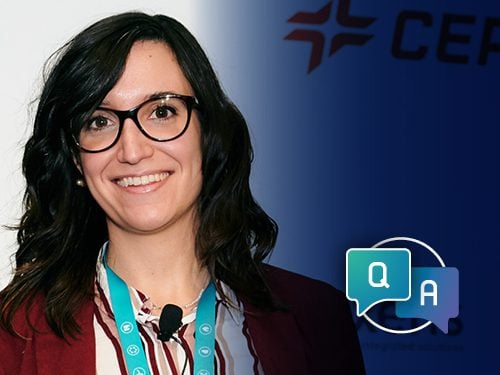 Tell us about your role as Digital Transformation Engineer, what was the most exciting project you worked on?
'Giving added value to traditional processes' would be a good definition of my role as Digital Transformation Engineer. Optimisation, simulation and advanced analytics are all fields close to my career in which I learn something new daily. Nowadays, I am not able to choose just one project in which I took part as the most exciting: each of them has a development and a research part, and also coordination between Departments in which you can develop and acquire a variety of skills to improve your work.
What are your focuses and your favourite thing about the role?
My main goal is to be able to create a good interaction between traditional processes and digital tools: artificial intelligence, data automatization etc. My favourite thing about the role is the interaction with other Departments in the company where I work: we cannot forget that they are the experts in their fields and, through digital transformation, we can give value to their traditional tasks and/or create a proactive atmosphere to develop new initiatives.
What is the technology that you're most excited about and why? CCUS, Hydrogen, Biofuels or Chemical recycling?
Biofuels. I believe this is a technology in which most companies have just started to see the tip of the iceberg, and it will play a transcendental performance in the short-medium term.
What would you say is the biggest challenge for downstream today?
Being competitive and different (in terms of energy efficiency, biotechnology, digitalization application) in a transition energy context.
What is your favourite book?
'The Foundation', written by Antonio Buero Vallejo. This is a typical book you have to read in high school, but I really recommend it: this is the one that taught me the pleasure in reading.
What would you recommend to future Rising Stars applicants?
Being yourself! It sounds like very traditional advice, but it is the reality: you have to represent your company by giving your point of view with modesty and with a positive attitude. This is the mantra I try to follow every day in order to move forward in all aspects of my life.
You might be interested in
At ERTC 2019 in Poland, Antonio Joyanes, SVP Refining at CEPSA told us more about Digitalisation, whether it is just a buzzword and its impact on the refining industry. He also shared his thoughts on whether refineries must move away from producing liquid hydrocarbons in order to remain competitive in the energy transition. Read More